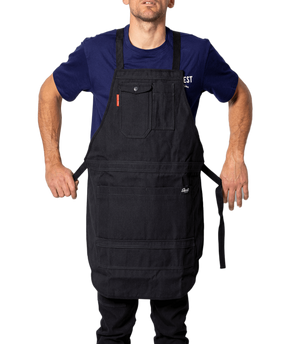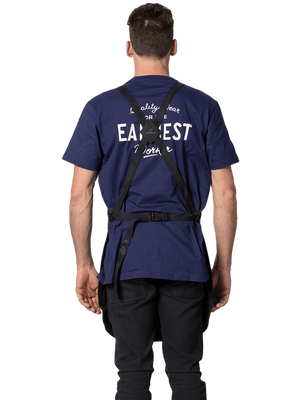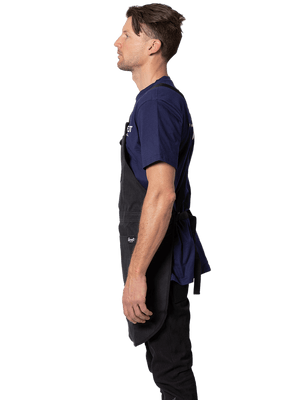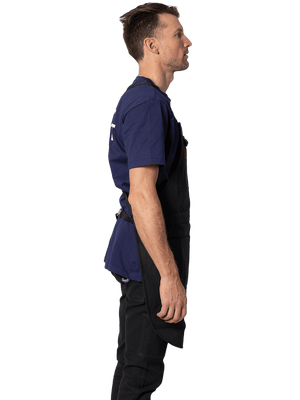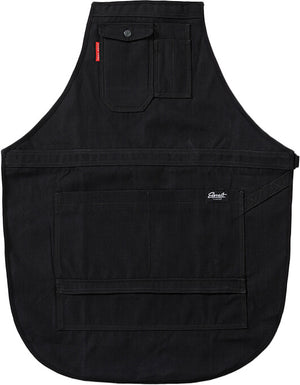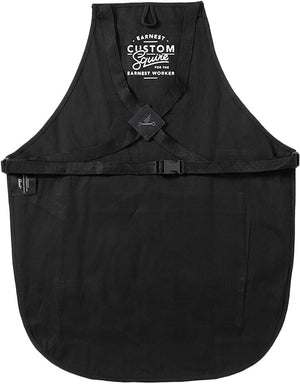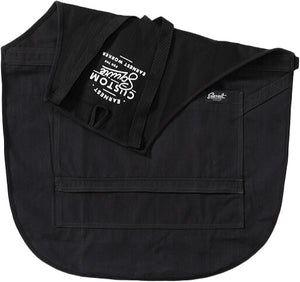 APRONS
Squire Heavy Duty Workshop Apron - K-CANVAS®

Charcoal

Constructed from 13oz. K-CANVAS® - Our very own unique heavy cotton & Dupont Kevlar® blend for ultimate durability.

Inspired by the need for storage and protection during rapid pit crew-work at the track and around the workshop.

A fitted, double-layered apron with storage in all the right places. Light but resilient, to keep you covered during those days of workshop duties. Weld and grind away without fear of pinholes or ruining your favourite tee.

🌏 Delivery Worldwide 


Scroll down for more


• Pad protected gadget pocket - fits up to iPhone 11 Pro Max sizing

• Triple section lower storage
• Spark friendly
• Cross-Back Adjustable Strapping System fits all
• Triple stitching throughout
• Re-enforced triple utility pocket

Scroll down for more

• Constructed from Earnest's very own 13oz. K-CANVAS®
• Heavy Duck Canvas Outer Layer (10% Kevlar)
• Stain repellant waxed cotton inner layer
• Triple reinforced seams throughout
• Pockets and stress points reinforced with non-scratch bar tacks, not metal rivets


View more about Earnest's K-CANVAS®


Adjustable strapping system fits up to 38" waist sizing.


• Shipping available worldwide
• Standard and express-courier shipping options available

View our shipping policy
WE'VE GOT YOU COVERED
Spark Friendly
Unlike nylon or other synthetics, our K-CANVAS loves sparks. Carry out your day-to-day without the fear of pinholes from heat. Weld and grind away with the confidence that if you spray our cotton, it will come out the other side looking as good as new.
Stain Repellant Waxed Cotton Inner
Our cotton twill utilized on many of our products has been lightly waxed. Not to keep water out like motorcycle racers & sailors of the past, but to reduce oil, dirt and general staining. Cotton that stays looking fresh for much, much longer.
K-CANVAS® Outer
Developed through a unique construction process which fuses para-aramid fibres directly with traditional heavy cotton thread. A tough fabric to work in, all while remaining comfortable and well-fitted for everyday wear.
Phone Protection
Our unique pocket located high up features reinforced padding to keep your gadgets away from day to day impacts.
Stain Repellant Waxed Cotton Inner Layer
300GSM medium weight breathable cotton. As if our cotton being spark friendly, light on the shoulders and extremely durable wasn't enough, we have finished the inner layer off with a light waxing.

See that slight reflective sheen? That's the wax doing its job to repel stains and dirt. By keeping dirt off the inside, each time you pick up the apron your clothing will remain clean, to keep you looking fresher for longer in the workshop.
K-CANVAS® Outer Layer
A canvas weave like no other. Earnest's very own K-CANVAS® is the world's very first work canvas to be so strong, it's been CE rated for motorcycle use.

We took what we know best - our tried and true, reliable and strong traditional canvas weave - and made it better, by developing a unique construction process which fuses Dupont Kevlar® directly with traditional heavy cotton threads.



How much better you ask? How does 20x the tensile strength of regular work pants sound?

 Finally, a material you can weld, grind and beat on in the workshop, then thrash around the street with confidence.
Pad Protected Smartphone Pocket
Purpose built smartphone pocket is located up high to keep away from day to day impacts. It also features an added layer of padded protection to keep your daily gadgets out of harms way as you work.

It's fully velcro flapped to keep debris out and to make sure your phone doesn't fall out every 10 minutes. Fits up to iPhone 11 Pro Max sizing.
Triple Section Lower Pocket

Storage in all the right places. Triple compartment lower pocket features two large easy to access tool pouches and a zip closure lower section to keep fiddly hardware off the floor while you work.

Stop spending half your time searching for tools/bolts, and get more done.
Cross Strap System
Solid strapped cross back design and soft-edge webbing removing pressure from the neck and creates a feather light apron that you'll forget your wearing.

Quick-release buckle is easy to adjust and quick to remove.
Utility Pockets + Tool Loop
Deep bar tack re-enforced triple utility pocket for stashing pens, pencils, fabrication rulers and other small essentials.

As well as a tool loop, ideal for hanging gear when in awkward situations.
A versatile item that's essential in every workshop.