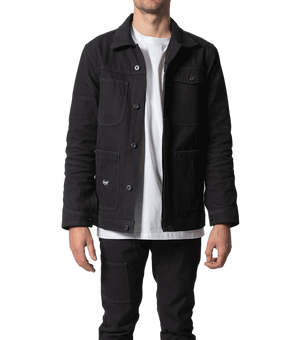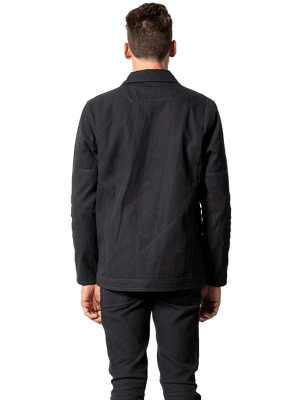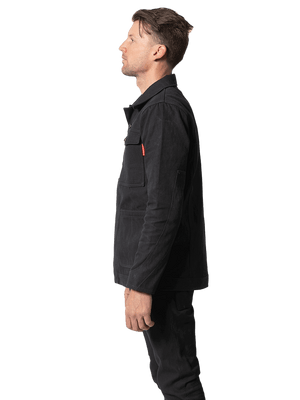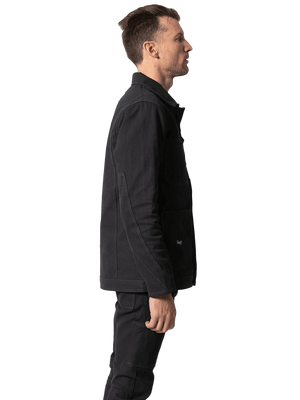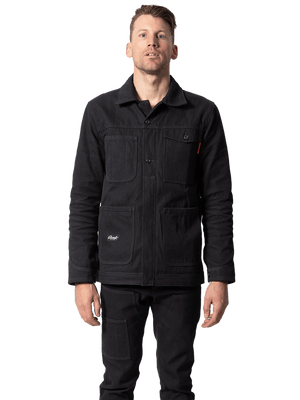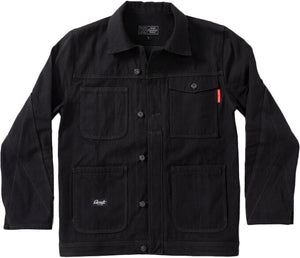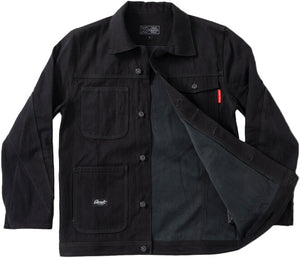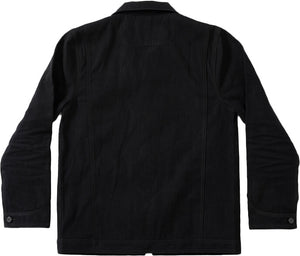 JACKETS
Smiths Jacket K-CANVAS

Charcoal

Crafted from the same incredibly-durable material as our ever-popular Tasker Pant, the K-CANVAS Smiths Jacket now allows you to complete the set. Much like the Tasker Pant, the Smiths Jacket is CE rated for motorcycle use.

While durability is, of course, a key tenant at the very heart of what makes Earnest, Earnest, there's more to a piece of work apparel than just how many glancing blows from a grinder or wayward MIG splatter bombardments it can take. Workwear should be comfortable and wearable in public, too.

The new Smiths jacket is exactly that. Resilient to the extreme thanks to our unique Kevlar-infused canvas construction, yet well-fitted and comfortable enough to allow for all-day wear without the general discomfort that many other work jackets seem intent on relish providing. Though utilitarian in its design, the Earnest Smiths jacket also strikes a clean-cut silhouette that doesn't leave you looking like you've just crawled out of a great depression-era coal mine somewhere in West Virginia.

Constructed from K-CANVAS® — our very own unique heavy cotton & Dupont Kevlar® blend.

NOTE: We would recommended sizing one up from your regular size as the jacket runs slightly smaller. Model is 6ft (183cm) tall and wearing a size Large.

🌏 Delivery Worldwide 

Scroll down for more

• Impact, tear and extremely abrasion resistant.
• 4.39* second slide time
• Spark friendly
• Slash & rip resistant
• 20x more tensile strength than your regular work jacket*
• Reinforced sleeves for extra protection
• Four front pockets
 for maximum storage
• 3-compartment tool pocket
• 2-compartment tool pocket
• Pad protected gadget pocket with button closure - fits up to iPhone 11 Pro Max sizing


• Triple reinforced pocket entries

• Side lower pocket entry to keep your hands warm


Scroll down for more

• Constructed from Earnest's very own K-CANVAS® 


• 100% Dupont

® Kevlar Stitching
• Pockets and stress points reinforced with Kevlar® bar tacks, not metal rivets.


View more about Earnest's K-CANVAS®

 


• Shipping available worldwide 
• Standard and express-courier shipping options available

View our shipping policy
Double-Layer Reinforced High Wear Areas

Large double-layer reinforced elbow panels.

Extra cuff reinforcement to add protection in high wear areas.
3-compartment tool pocket

Triple section pocket keeps your hand's free and your essential tools always in arms reach.
Pad Protected Gadget Pocket

Purpose built gadget pocket located at chest height to keep away from day to day impacts when working & riding. Features an added layer of protection to keep your gadgets out of harms way as you work.

Fits up to iPhone 11 Pro Max sizing.
A CANVAS WEAVE LIKE NO OTHER.